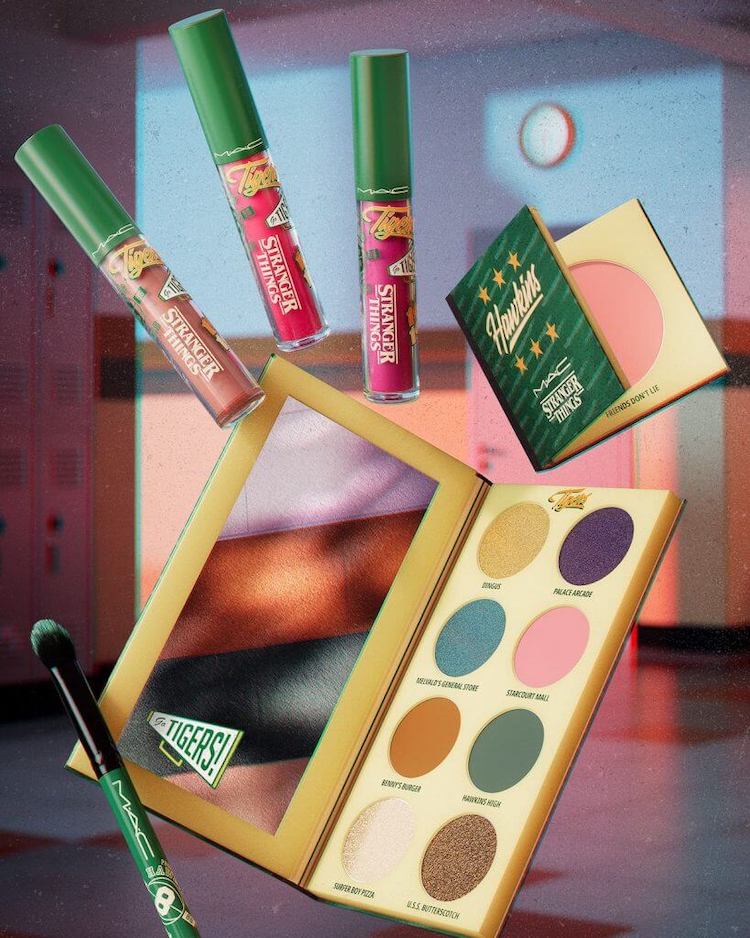 Ik heb stoer nieuws! MAC heeft een hele toffe samenwerking met de Amerikaanse hitserie Stranger Things. En komt met de MAC Stranger things limited edition collectie!
MAC Stranger things
Heb jij alle seizoenen van de sci-fi serie al gekeken? Dan weet je ook dat de kinderen uit Hawkins regelmatig schakelen tussen de echte wereld en The Upside Down. Een wereld waar je niet wil zijn.. maar een wereld die wel prachtig door te vertalen is naar moody en sensuele make-up producten.
Daarom heb je een duistere lijn die slaat op 'The Upside Down' en de andere items zijn gericht op 'The Real World' deze ogen dus veel vrolijker en lichter.
De collectie bestaat uit producten voor de ogen, wangen én lippen. Ook de verpakking is helemaal in thema én er zijn zelfs een aantal speciale make-up kwasten verkrijgbaar.
MAC zegt het volgende over de Stranger Things collectie:

"The collectible collection is meant to immerse you in this cult-favourite series, from the memorable shade names fans will instantly recognize to the limited-edition packaging, all inspired by the iconic worlds of Netflix's Stranger Things that bring two universes – the real world and the Upside Down – into one collection."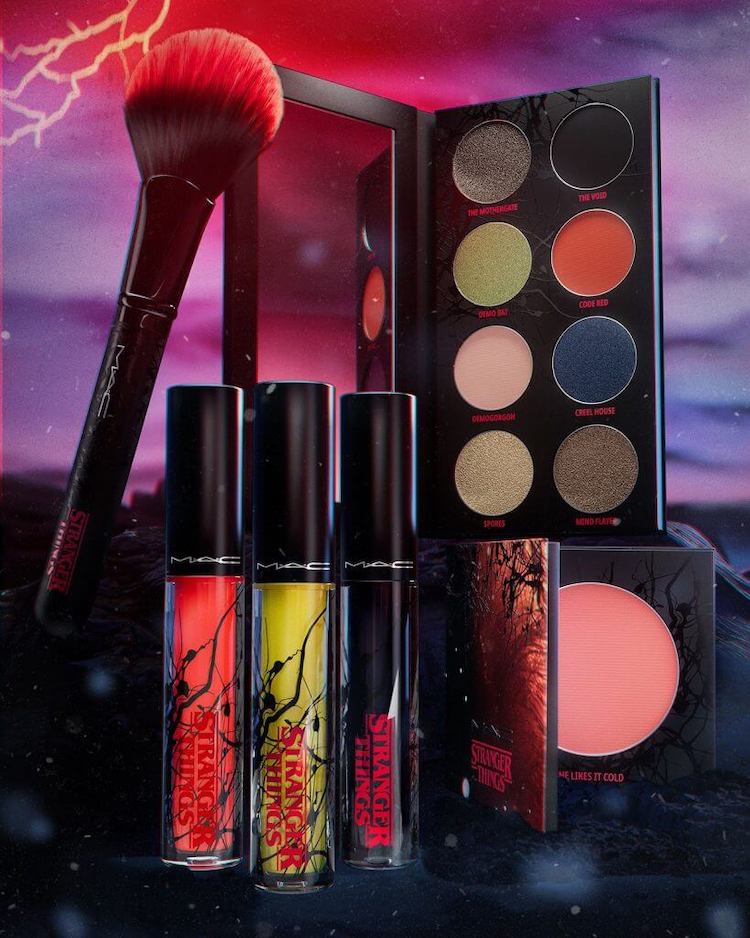 MAC STRANGER THINGS 217SES BRUSH – € 31,00
Deze MAC Stranger Things kwast heeft een groene uitstraling. En is om te schaduwen of blenden van poederachtige of romige producten.
MAC STRANGER THINGS 140SES BRUSH – € 45,00
De Mac Stranger Things Brush heeft een donkere uitstraling, rode Stranger Things tekst opdruk. De brush haren hebben halverwege een rode kleur.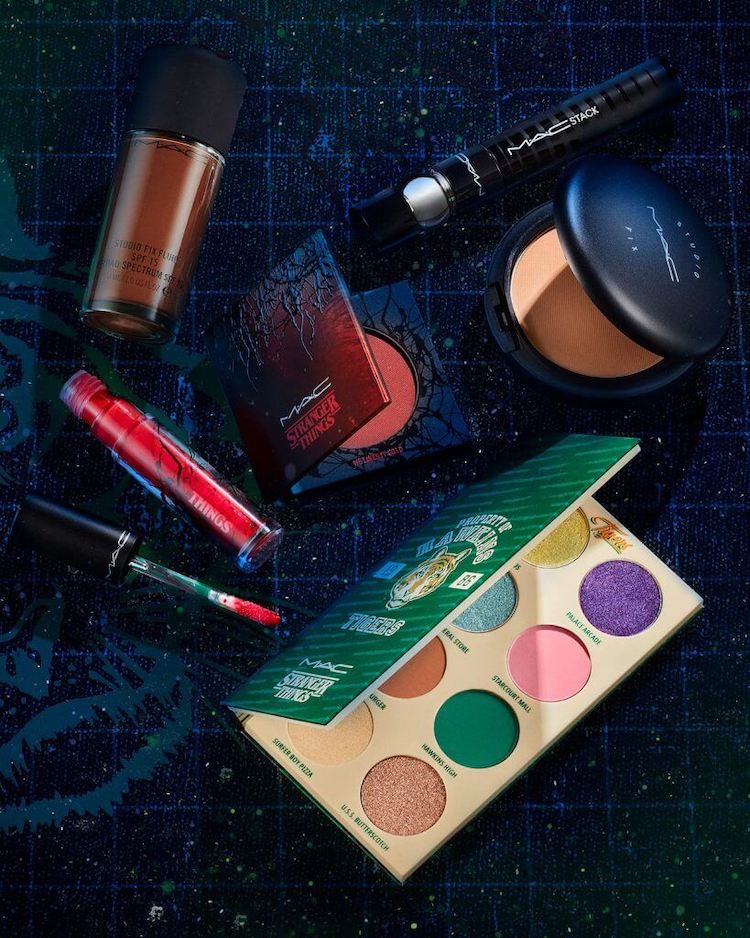 MAC STRANGER THINGS POWDER BLUSH – € 20,50
De MAC Stranger Things Powder Blush is verkrijgbaar in twee kleuren:
Friends Don't Lie – soft pink
He Likes It Cold Vintage-wash – red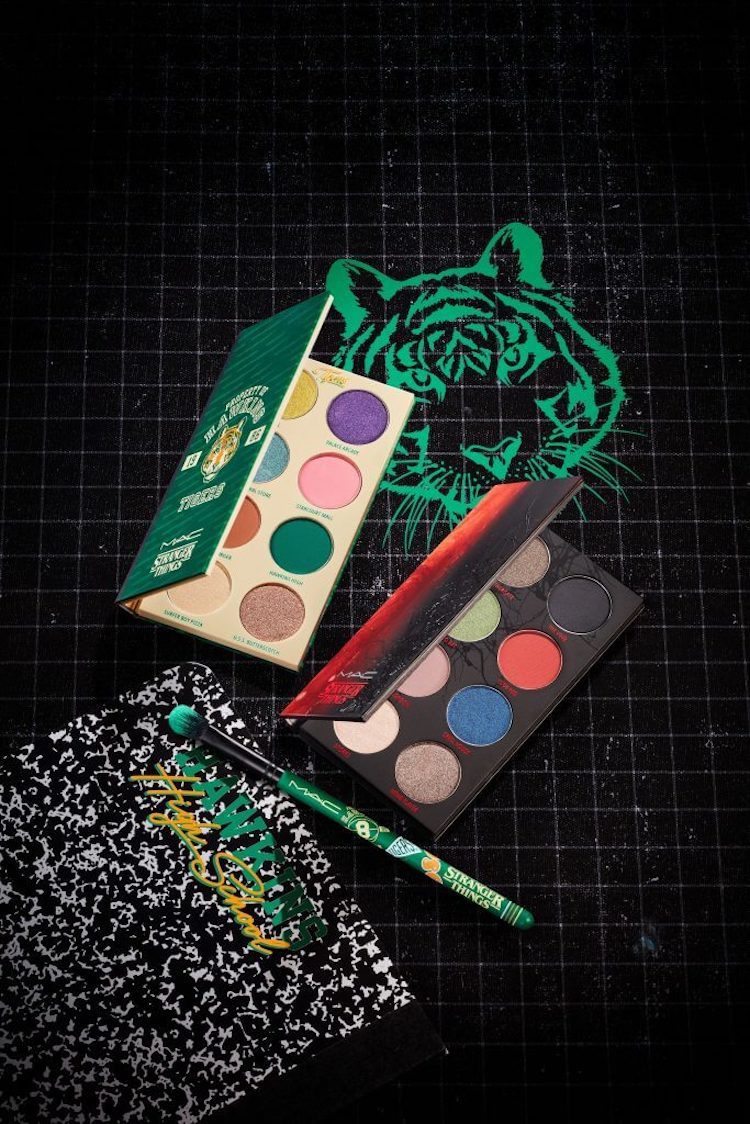 Onderstaand zie je twee prachtige oogschaduw paletten uit de MAC Stranger things collectie.
MAC STRANGER THINGS HAWKINS CLASS OF 1986 EYE PALETTE – € 45,00
Dazzleshadow Extreme in Surfer Boy Pizza
Powder Kiss Soft Matte Eye Shadow in Benny's Burger Ochre
Dazzleshadow Extreme in Melvald's General Store Saturated teal-blue
Dazzleshadow Extreme in Dingus Lime and gold duochrome
Dazzleshadow Extreme in U.S.S. Butterscotch Bronze with slight silver pearlescent particles
Powder Kiss Soft Matte Eye Shadow in Hawkins High Hawkins green
Powder Kiss Soft Matte Eye Shadow in Starcourt Mall Bright washed pink
Dazzleshadow Extreme in Palace Arcade Deep bright purple
MAC STRANGER THINGS THE VOID EYE PALETTE – € 45,00
Dazzleshadow Extreme in Spores Light cool neutral
Powder Kiss Soft Matte Eye Shadow in Demogorgon Light smoky taupe
Dazzleshadow Extreme in Demo Bat Light army green
Dazzleshadow Extreme in The Mothergate Teal and plum duochrome
Dazzleshadow Extreme in Mind Flayer Olive green and silver sparkle
Dazzleshadow Extreme in Creel House Deep cool navy
Powder Kiss Soft Matte Eye Shadow in Code Red Bright red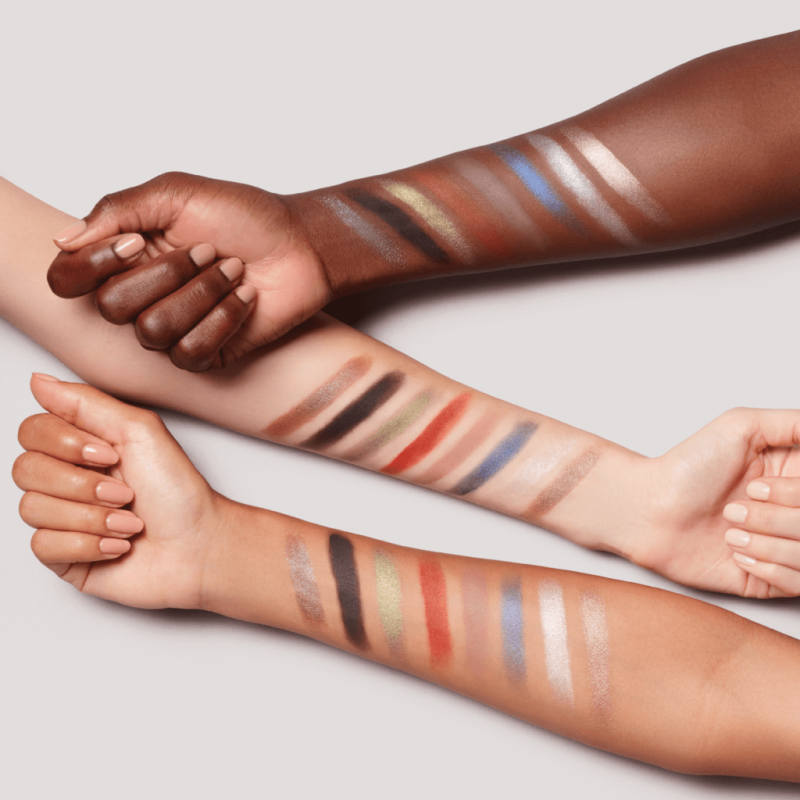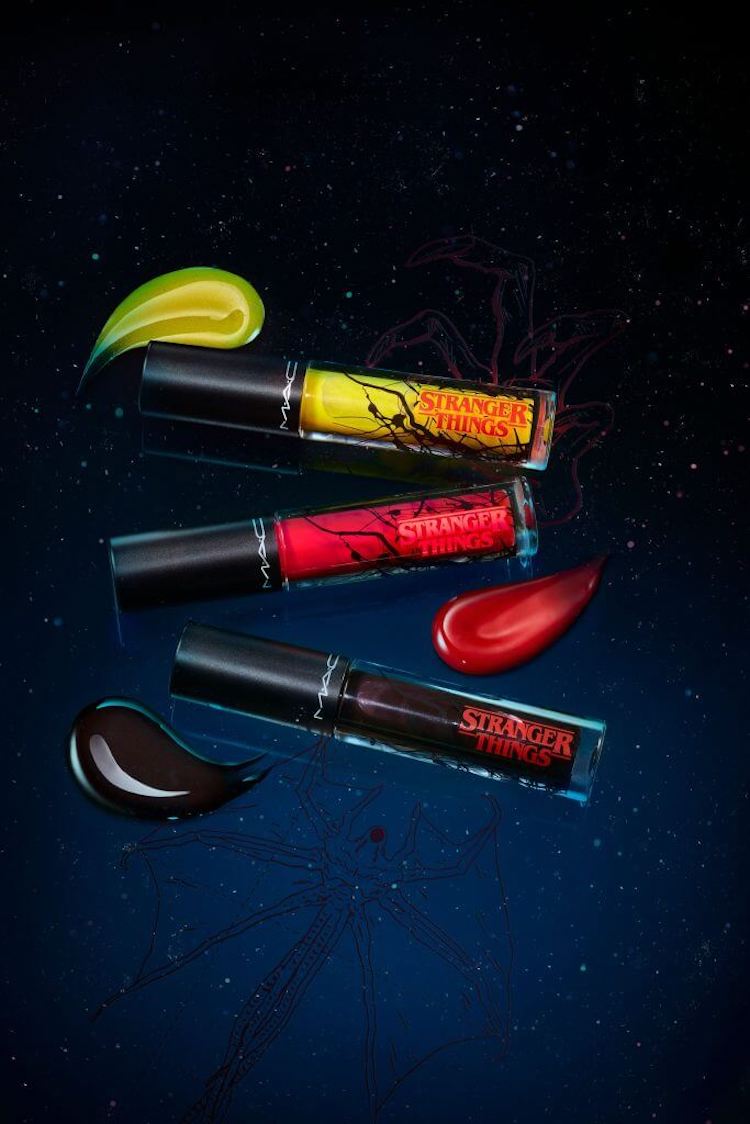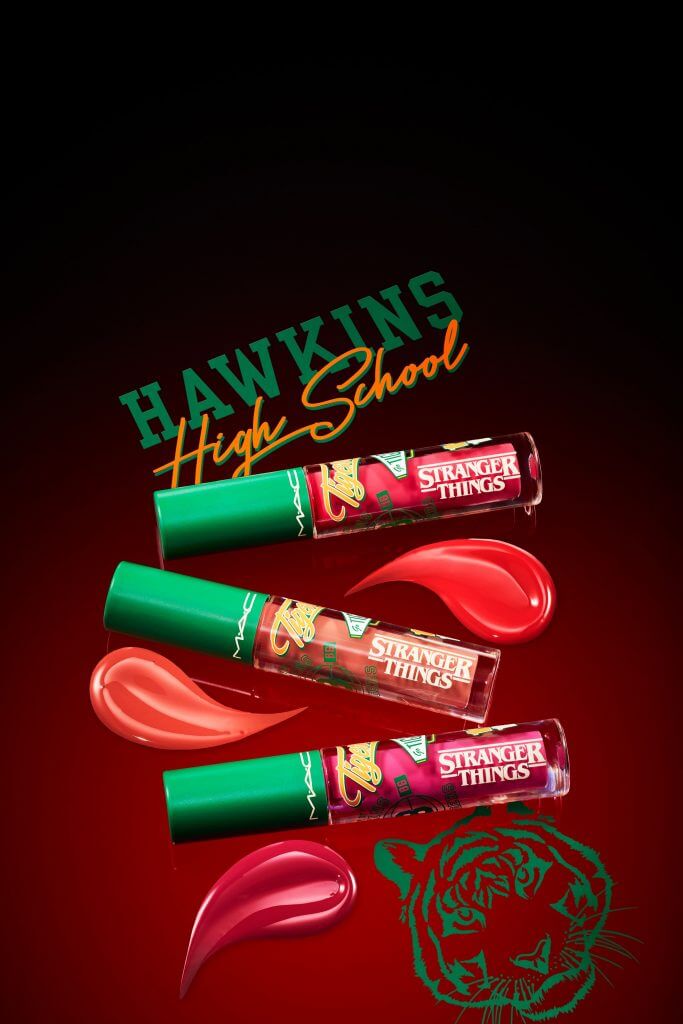 MAC STRANGER THINGS LIPGLASS – € 16,90
De MAC Stranger Things Lipglass is verkrijgbaar in 6 prachtige kleuren:
Eerie El Brownish – rose
Excellent Erica Light – coral
Wild Wheeler Bright – fuchsia
Marvelous Max Bright – acid green
Rockin' Robin Bright – red
Skull Rock – black
Prijs en verkrijgbaarheid
De collectie is vanaf 27 mei 2022 te koop bij de MAC counters bij de Douglas en maccosmetics.nl. Vanaf 2 juni is de collectie te koop bij alle MAC verkooppunten. Wat vinden jullie van de collectie?